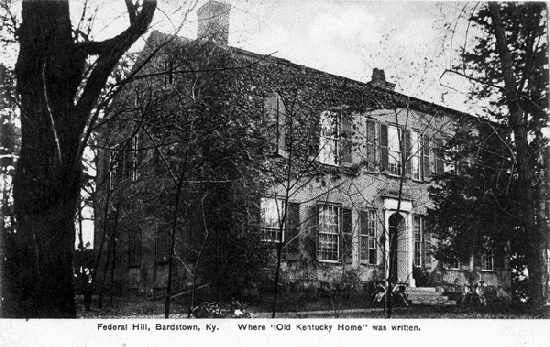 This view of the exterior of Federal Hill is from a postcard that carries a 1917 postmark., and was evidently from a photograph taken long before the state became interested in preserving the mansion.
Notice the heavy growth of ivy on the front of the home, as well as the thick growth of brush and trees that appear in the shot.
Madge Rowan Frost, granddaughter of Judge John Rowan, and daughter of John Rowan Jr. and Rebecca Cairns, was the sole surviving titleholder to the Rowan plantation, and it was her wish that Federal Hill become a shrine to composer and Rowan relative, Stephen C. Foster.
Frost was said to tell tales about her memories of Foster's visit to Federal Hill, but any tales she may have told were fabrications -- she was born in May 1853, the year after Foster's alleged visit to Federal Hill.
A caption on the bottom of the postcard states "Where "Old Kentucky Home" was written."
The postcard was published by James M. Wilson of Bardstown and printed in Germany.
| BACK |