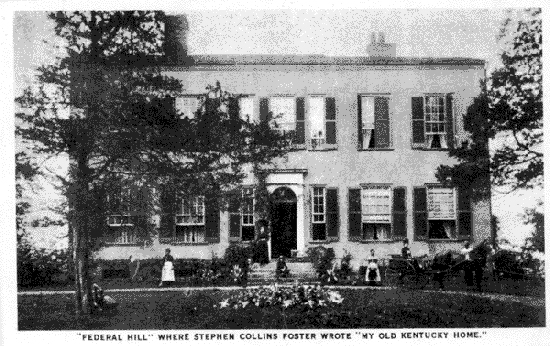 This image is the picture side of a postcard with a message solicting funds to buy Federal Hill for preservation. This fund-raising drive began in earnest 1920-21, and encompassed the state of Kentucky and the nation.
Even before the state took possession of "the Home," local folklore had already established that the song "My Old Kentucky Home" was written here. "Does it touch your heart?" the postcard says. "Let it touch your pocket book. Contribute to the Old Kentucky Home Commission."
There's no identification of the folks in front of the home. If you look closely, you can see four or five people standing or sitting in front, and its difficult to make out, but there's a woman in a buggy with a horse on the right-hand side of the home. A man's head and shoulders can be seen from behind the horse.
It must've been a warm day, looks like all the windows are open. There appears to be a flower bed in the area down in front of the home.
Points of interest: Look at the roof ridge; you'll notice a dip in the roof as it runs to the right half of the house. The roof is lower here because there is no third story on the righthand portion of the home.
Legend has it that a ballroom or music room was in this space on the third floor, but was gutted by fire. The roof was repaired and lowered.
| BACK |