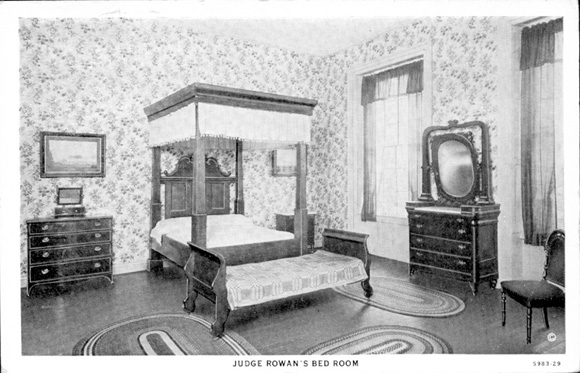 This postcard shows the furnishings for Judge John Rowan's bedroom. Note the hardwood yellow poplar floors, which were absolutely stunning, though they squeaked a bit. Still not bad for more than 200 years old!
The back of the postcard adds more: "The furniture brought into the Home by JOHN ROWN SR. after it was built is considered among the rarest antique in the U.S.; it is the Duncan Fyffe, Sheritan, Chippendale, Hepplewhite, Colonial, etc. On the walls are fine paintings of the Rowan family, Foster, etc. by the old masters, Jouett, Rhinehart, Christy, Borland, Marshcall, etc. The Curtains, Drapery, Rugs and Carpets are gorgeous."
The room's furnishings have changed little from what I remember. There was a chair in the room that doesn't show up in the picture -- an invalid chair. This chair looked like a regular wingback chair, but if you lifted out the cushion, there was a hole in the bottom for use as a toilet, like our modern day bedside commodes.
| BACK |