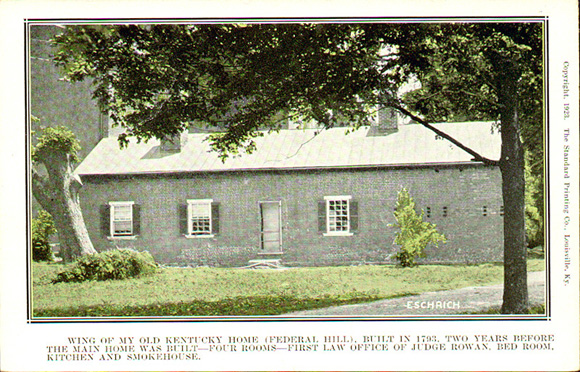 The caption reads: "Wing of My Old Kentucky Home (Federal Hill), built in 1793, two years before the main home was built -- four rooms -- first law office of Judge Rowan, bed room, kitchen and smokehouse."
During my tenure here, only two of the four rooms of this wing were open to the public -- the kitchen, which featured a large fireplace and hearth, and the smokehouse. Not much to see in the smokehouse, but it was fairly unique as it was one of the few I've seen that was actually built as part of a home. Most smokehouses are separate structures, away from the rest of the house.
During my tenure at the park, this wing contained, from left: (The first window)Dressing rooms for the tour guides, as well as storage of their costumes; (second window) general storage, more costumes, alarm panels and such; (door and last window) the kitchen, which was the largest room in the wing; and lastly, the smokehouse, where you can see some of the vent holes in the bricks.
Interestingly, there was no direct connection from this wing into the main body of the home. All the doors exited to the outside. If you left any of this wing's four rooms, you had to walk up the steps and enter the dining room or the home's rear door in the main hallway.
The windows casings for this wing appeared to me to be mostly originals; and while stately enough, this wing appears to have been hastily built as few things appear to be square or level.
See the step at the door on the side of this wing? That leads into the kitchen, and the step is the same today as it was when this photograph was taken -- it's a large stone that was being drilled for the top of a well. Apparently, while it was being drilled it cracked -- and rather than discard it, the stone was used (holes and all) as a porch step. I've got a closer shot of it somewhere, I'll have to scan it and add it to this page in the future.
Legend debunked? For years I've heard (and even repeated to tourists) the legend that the bricks used to build Federal Hill were ballast carried by sailing ships from England, carried overland to Bardstown.
This is highly unlikely, as you can imagine, packing bricks overland wouldn't be a very smart use of pack animals -- especially when you consider that Nelson County has some exceptional clay deposits, and that brickmaking was a fairly common activity even by the time Rowan built Federal Hill.
| BACK |