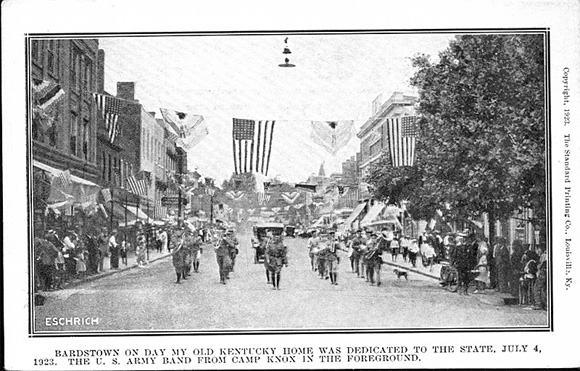 This parade was held during the dedication of Federal Hill and My Old Kentucky Home as a state shrine.
The caption reads: "Bardstown on day My Old Kentucky Home was dedicated to the state, July 4, 1923. The U.S. Army Band from Camp Knox in the foreground."
This photo was taken from the front of the Nelson County Courthouse looking north down Third Street. It is another of the series of "dedication day" postcards, and has the icky green watercolor tinting; however on this one, I scanned in black and white; it just looked better!
Points of interest: Notice the single light hanging down in the middle of the photo. Also the band looks intent during its march, but there's a dog on the right side of the street that looks intent on chasing the tuba player!
Town looks right festive, with plenty of flags a-flying and bunting all over downtown.
| BACK |