Who and what were the Bardstown Aero Modelers?
The Bardstown Aero Modelers were a loosely connected group of model airplane enthusiasts who picked up the hobby as kids living in the Maple Hill section of Bardstown.
Denny Greenwell can be credited for coming up with the name, since he said the acronym fit what happened to our planes all too often - BAM!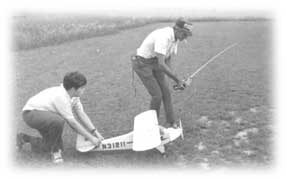 ABOVE: Jim Brooks holds the tail of a Piper Cub while owner Ed McIntire goes through his pre-flight checks after starting the plane's engine.
There never were any dues, though I tried one year to get the club recognized by the Academy of Model Aeronautics. It was mostly friends flying with friends. The club consumed a lot of nitromethane fuel and balsa wood, all in good fun.
This group included myself, my brother Bennie, and our neighbors Greg Young and Denny Greenwell. Later we "adopted" other members (they didn't necessarily know they were members), including Ed McIntire, Joe Simpson, Bill Barnes and whoever else had an interest in flying model airplanes with us. The hay day of BAM was 1971 to about 1978.
Fast forward to 2001.
While surfing eBay in February 2001, I run across a bunch of control-line model kits, engines and other stuff. I bidded on -- and bought -- an old Carl Goldberg 1/2A model.
While it has yet to fly, I have been building it part-time with the help of my daughter, who enjoys learning new things. The plane is nearly complete; the first flight may be before we know it.
The kit has rekindled my interest in U-Control, and I recently brought home a bunch of my models from storage -- after nearly 30 years. They've all suffered from neglect and age; the lead outs on most were thread, and that has dry rotted. The silkspan coverings have split and become brittle. Several planes suffered damage from being moved by people not accustomed to handling fragile balsa wood.
Several have been restored, and several await resoration. Visit my restoration pages here. Most of my old ships that survived hangar rash and storage are salvageable and will be airworthy again. I plan to fly all them, just to see if I can.
Enjoy your visit back in time.