The Flite Streak has had a hard life. The tail feathers have been broken off a couple of times, and the outboard wing sheared off at least once. The sheeting on the wing along the fuselage has to be replaced in 3 of 4 spots.


I had to cut into the sheeting over the bellcrank to install new leadouts. The old ones had rotted and broke with only a few pounds of pressure. It's a common problem I've had for several of my smaller planes.


Ready for silkspan and dope. Note the original weignt in the wingtip in the foreground.


My Flite Streak from a 3/4 view. Yes, that's a bit of a wrinkle in the covering near the leading edge at the wingtip in the foreground.
(March 10, 2002)
Above and right, my Flite Streak as it looks before color dope is applied. It looks a little rough, with the old dope finish being covered by clear and sanded. (March 10, 2002)
MARCH 10, 2002. The wing has been recovered and doped with several coats of Sig Lite Coat dope. The wing tips are still a problem for me, but they aren't terrible. The covering job would be better if it was a newly constructed ship. It'll do as-is for one 30-plus years old.
I'm surprised at how heavy the Streak has gotten as I've added covering and dope. It has several layers on it from the past, not to mention heavy glues and epoxies from a variety of repairs. It won't be as nimble as it was when I flew it 30 years ago.
I'm ready to color dope the Flite Streak now. I'm looking at the same paint scheme (for nostalgia's sake). The red will be Sig Waco Red, which is a brighter one than was originally used.
MARCH 2, 2002. I spent quite a bit of time massaging the airframe with sanding sealer and sandpaper. It's not perfect, but it will be smoother than it was.
I had to remount the firewall, as it was loose and the holes were stripped out. I installed blind nuts and epoxied the new firewall in place.
I covered the wings with medium silkspan today. I toyed with the notion of using some other color scheme, but I'm probably going to stick with red and white, though the red will probably be a brighter Sig Waco Red. Before bed, I'll go spray the silkspan with water so it'll shrink.
DEC. 4, 2001. The problem with getting my old Flite Streak back in shape has been the sheeting on the center section of the wing. Because of the fuselage being so well attached, I've had to piece the missing sheeting together and glue it. Not an easy task, and it has been difficult to do it so it looks nice. I've wondered about scrapping the plane and building a newer 1/2A Flite Streak kit, but it's hard to forget the great flights with this one.
The tail assembly has been repaired, and once I replace the last sheeting that's missing the wing will be covered.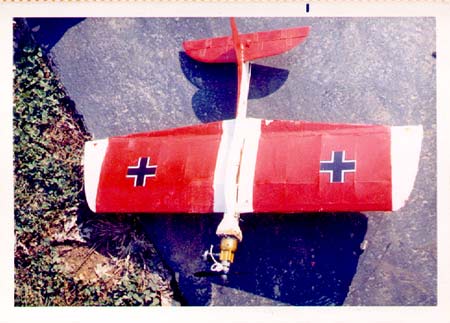 My Top Flite Flite Streak, powered by my most powerful motor at that time, a Cox Golden Bee, was one of the most acrobatic control-line planes I've ever flown of any size. I had a blast flying this little plane; it even survived an aerial attack by a Nighthawk.
The ship was given to me by a much older friend of my family who flew R/C.
I'll re-utilize this color scheme, but drop the German crosses. Many of my models carry WWII emblems, including swastikas, though today they would probably be classified as hate crimes.