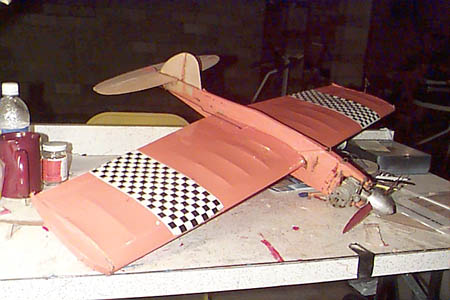 This OS Max .35-powered Sterling Ringmaster, built about 1974, was my first attempt at using Monokote. The plastic film held up well, surviving 28 years of flying, storage and a number of moves.

One of the first .35-size airplanes I owned was a partially built Sterling Ringmaster a cousin from Ohio gave me he had started in the early 1960s. I finished that plane and enjoyed it, and it prompted me to build this Sterling Ringmaster about 1974. It flew many flights, powered by one of my K&B Stallion .35s or later, an OS Max .35. I had purchased an R/C OS .40 engine and flew it on the Ring for a time, but traded it for the .35 shown in the photo. This plane suffered through my first try with Monokote; it didn't turn out well, but it was functional. When returned to modeling in 2001, I removed the covering from the tail and adjoining areas to repair the loose tail feathers. I removed the factory landing gear soon after I built the plane because it interferred with a profile fuel tank. My older brother launched this thing by hand each time.

Compared to the silkspan covered planes of mine that survived the past 30 years, the Monokote was superior in its ability to stand the test of time. As I was repairing the tail, I considered replacing the missing film, but decided instead to strip the Ring of all its plastic film covering. I will replace the landing gear and cover it in with silkspan and dope.

UPDATES

MARCH 2, 2002: The Ringmaster is down to the bare frame. I've begun filling dents, and once those are sanded smooth, will cover the wings and prep it for dope. I still need to bend the wire for the gear and order the appropriate profile tank from Brodak.

MARCH 10, 2002: I've been working on the Ringmaster this week, and tonight I finished covering the wing with silkspan. The covering job is coming out pretty nice. I'm using nitrate clear dope from Sig to apply the covering. It's working well, too. I sprayed the wing with water to tighten up the silkspan, and I expect I'll be ready to clear dope the wing some this week. I'll use nitrate clear on it until it's sealed and ready for color.

I'm not sure of the color I'm going to use. I'm thinking of using a scalloped design, like the classic scallops you see on some of the old Super Ringmasters. I want a classic paint job, nothing too modern or garish. I thinking of spraying on the finish, too.

In the meantime, I've got to installl the landing gear and remove the OSMax .35, clean it up and put it on a test stand and see how it runs. I also need to order a brodak profile tank.